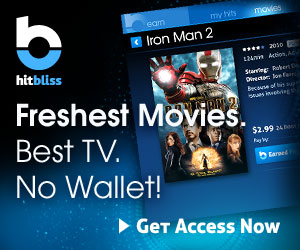 Check it out!  A new way to stream hundreds of hit movies & thousands of tv shows for no money cost to you!   This will be great for my daughter for those shows that she can't get at college on a regular basis.
Hit Bliss is unique from others because HitBliss consists of two parts: HitBliss Earn and HitBliss Store.
In the HitBliss Earn app you  can engage with brands (i.e. watch videos & other brands messages) and earn real cash in your account (in exchange for their time/attention to the brand messages).
You can then move over to the HitBliss Store environment and use your earned cash to stream movies & full tv episodes (commercial free).
You will have access to : The Big Bang Theory, The Vampire Diaries, The Walking Dead, and Pretty Little Liars (as well as hundreds more).  Basically, HitBliss gives you the ability to stream great content without requiring that you dig into your cash for every viewing.